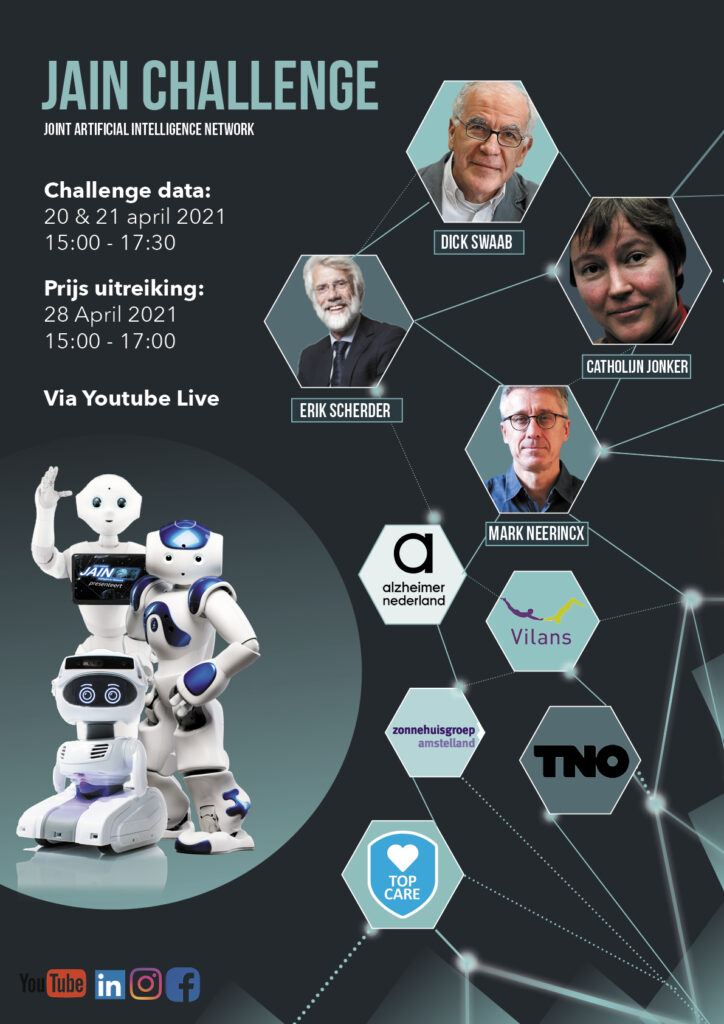 Zie ons You Tube Channel
Door uzelf kosteloos te abonneren blijft u op de hoogte van waardevolle JAIN content en kunt u onze virtuele evenementen volgen.

Meer informatie vind u ook via: ons evenement op LinkedIn
De JAIN Challenge (JC)
De JAIN Challenge vindt in april 2021 plaats en is een publieke wedstrijd voor ontwikkelde tech-producten en diensten gebaseerd op kunstmatige intelligentie, die de kwaliteit van leven en zelfredzaamheid van mensen met dementie en hun verzorgers ondersteunen en de werkdruk voor professionals, naasten en mantelzorgers verlagen. Het online evenement is interessant voor zorgprofessionals, verzorgers en naasten van mensen met dementie en de Challenge betreft een wedstrijd waarbij een onafhankelijke jury bepaalt wat het beste Nederlandse technische systeem is dat:
Zelfzorg-mogelijkheden biedt aan mensen met dementie en hen assisteert bij de dagelijkse kwaliteit van leven;
De werkdruk voor professionals, naasten en mantelzorgers verlaagt.

De ontwikkelde technische systemen, gebaseerd op kunstmatige intelligentie, worden in de communicatie rond de JAIN Challenge benoemd als "e-health en AI-toepassingen".
De JC is ontwikkeld voor iedereen die een hoge sociale betrokkenheid en interesse heeft om mensen met dementie te helpen met ondersteunende technologie.
Hoofddoel van JC
Het hoofddoel is het kenbaar maken en samenbrengen van de meest innovatieve producten en diensten die in Nederland ontwikkeld zijn om zodoende van elkaar te leren en elkaar te inspireren en het gebruik van deze innovatieve producten en diensten op te schalen en te verankeren.

Registratie
Ontwikkelaars, bedrijven, universiteiten, zorginstellingen, zorgprofessionals die willen deelnemen aan het JC kunnen zich kenbaar maken en zich aanmelden bij de secretaris van het evenement via challenge@jainprojects.com. Nadat deelnemers zich kenbaar gemaakt hebben ontvangen zij richtlijnen waaraan de indiening en de product- en dienstomschrijving aan moet voldoen.
Beoordeling van technische systemen en factoren die in de Challenge worden meegenomen

Het doel van AI ondersteunde zelfzorg voor mensen en betrokken verzorgers is om de zelfredzaamheid te stimuleren en tekorten daarin aan te vullen, rekening houdend met de lichamelijke en geestelijke vermogens van de persoon.
De 'challenge factoren' zijn zo gedefinieerd dat de resultaten bijdragen aan de kwaliteit van leven van mensen met dementie en het behoud van betaalbare en beschikbare hoogwaardige zorg. Zodat het werken in de zorgsector, die momenteel kampt met hoge druk en een tekort aan opgeleid personeel, weer aantrekkelijk wordt.

Nadat deelnemers zich geregistreerd hebben, wordt hen gevraagd om de beschrijving van hun product en dienst in te sturen.

Beoordeling inschrijving
Een onafhankelijke jury, geformeerd door Alzheimer Nederland, zal de ingestuurde product- en dienstomschrijvingen beoordelen en rangschikken. In de onafhankelijke jury nemen ervaringsdeskundigen, mensen met dementie, mantelzorgers en zorgprofessionals deel.

Als het product door de jury wordt geselecteerd, wordt de betrokken persoon of instelling uitgenodigd om zijn product te presenteren. Tijdens het online evenement is er een uitdaging tussen de 6 beste producten, het beste product wordt bepaald door een geselecteerde groep specialisten die de presentaties van de producten zullen beoordelen.
De geselecteerde winnaars zullen erkenning, via (online) media en een waardevolle prijs ontvangen. Binnenkort zal hier meer informatie over verschaft worden.
Programma (Nationale) JAIN Challenge

De JC is vanwege COVID-19 een online Poster- en Product Presentatie-evenement, waar producten worden gepresenteerd door hun ontwikkelaars. De challenge is verspreid over drie dagen en op dag 1 en 2 zullen de finalisten hun idee pitchen aan een expert-comité. Voorafgaand aan de pitches zullen ondergenoemde inleiders vertellen over het maatschappelijk groeiende probleem 'dementie' in de zorg en de (technologische) mogelijkheden van vandaag de dag.
Op 20 april 2021 om 15.00 uur zal Drs. Thijs Houtappels, voorzitter van de RvB van Zonnehuisgroep Amstelland, onze gastheer de JAIN Challenge openen en vervolgens prof. dr. Dick Swaab die inhoudelijk doorpakt het woord geven.
Op 21 april 2021 om 15.00 uur zal Prof. dr. Catholijn Jonker een inleiding houden over AI en Dementie.
Op 28 april 2021 zal prof. dr. Erik Scherder samen met drs. Marco Blom van Alzheimer Nederland de prijzen toekennen aan de deelnemers die het beste product of dienst hebben gepresenteerd. De JAIN Challenge zal afgesloten worden door Drs. Thijs Houtappels.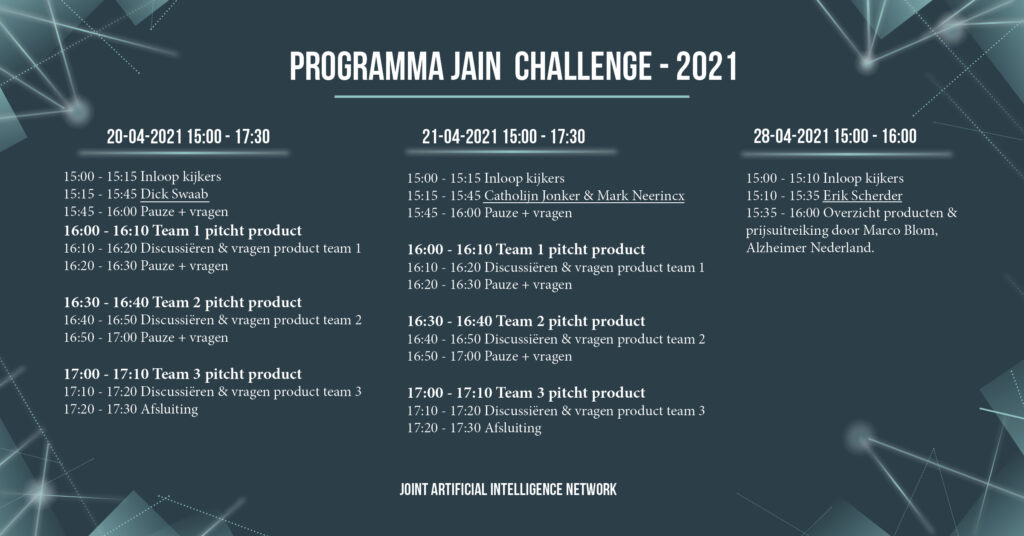 Aanmelding van product/systeem
De JAIN challenge biedt de mogelijkheid aan Experts, ontwikkelaars, zorginstellingen, bedrijven, universiteiten, studenten en andere gepassioneerde individuen om hun innovatieve producten te delen ten behoeve van de dementiezorg in Nederland. Om samen de zorgdruk te verminderen en de kwaliteit van leven van mensen met dementie en hun naasten te verhogen.
De JAIN challenge is een evenement waar deelnemers kort hun deelnemende product kunnen presenteren en pitchen met behulp van een poster. Het evenement wordt geopend en begeleid door gerenommeerde wetenschappers binnen het dementieveld.
Wilt u met uw innovatieve product meedoen aan deze challenge? Dien dan uw productomschrijving in voor vrijdag 26 februari 2021 – 12.00 uur.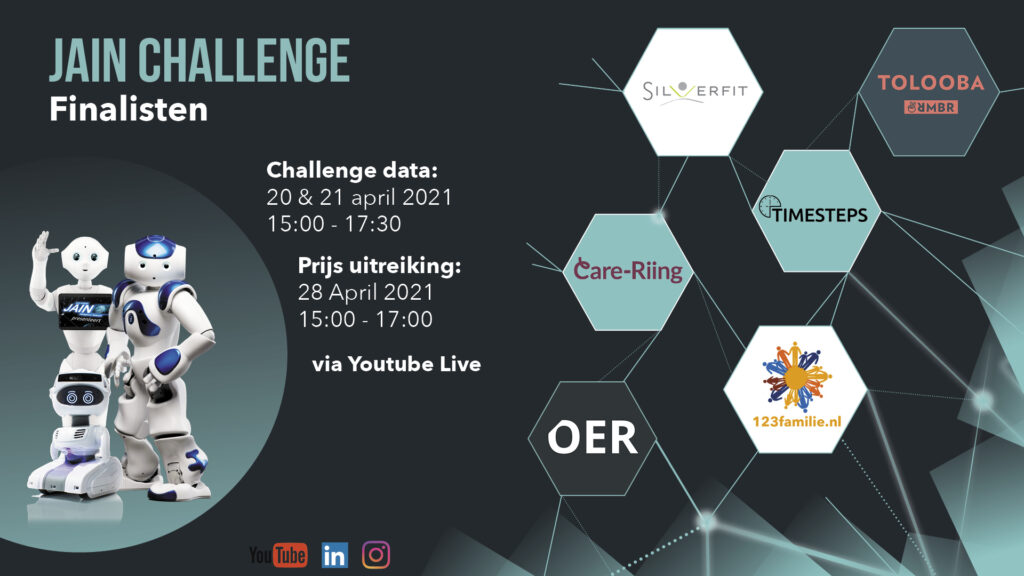 Partners